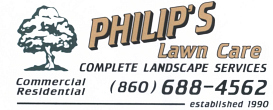 Testimonial

What can I say about Philip's Lawn Care? Lots of good things. Phil and his crew delivered more than promised, ahead of schedule and without any hassle or complications. The quality of work was outstanding, their pricing more than competitive and their follow-up very impressive. It was a real pleasure dealing with a company that really means it when they say they care about their customer s satisfaction. A totally pleasant experience from beginning to end.
Lawn and Landscaping
Not sure where to start with a new design? Don't worry, we have a process that is efficient, effective and fun!

Philip's Lawn Care lawn and landscaping services include:


Landscape design and installation

Flower, tree and shrub planting and pruning

Lawn installation including topsoil, sod and seed

Lawn care, mowing and maintenance

With a focus on equipment care, you can be assured of a well manicured lawn provided on a timely and predictable basis.

Unlike many landscaping companies, we respond to all inquiries and look forward to taking care of your landscaping needs.
For More Information Call 860-688-4562