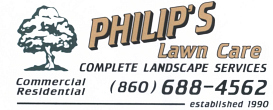 Testimonial

It has been my pleasure to have been associated with Philip's Lawn Care for many years. Philip has done a great job of landscaping our property, building our patio and most recently replacing our front walk. Each of these projects were carried out in a professional manner and the work was of the highest quality. We also rely on Phil to do both Spring and Fall cleanup along with annual trimming of the bushes. I appreciated Philip's team's quality work and timely response.
Lawn and Landscaping
Not sure where to start with a new design? Don't worry, we have a process that is efficient, effective and fun!

Philip's Lawn Care lawn and landscaping services include:


Landscape design and installation

Flower, tree and shrub planting and pruning

Lawn installation including topsoil, sod and seed

Lawn care, mowing and maintenance

With a focus on equipment care, you can be assured of a well manicured lawn provided on a timely and predictable basis.

Unlike many landscaping companies, we respond to all inquiries and look forward to taking care of your landscaping needs.
For More Information Call 860-688-4562