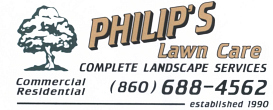 Testimonial

March 22, 2017 Dear Honorable Members of the Town Planning and Zoning Commission, My name is Brad Hastings and I am a lifelong resident of Windsor. I intended to be at the March 14 meeting to personally show my support for Phil Thulen but that was cancelled due to the snow storm. Unfortunately, I am not able to attend the rescheduled March 22 meeting. There are many reasons to vote in favor of Mr. Thulen. Many of those are because of his high level of professionalism. However, I speak directly to the risk of losing Mr. Thulen as a generous W... read more
Lawn and Landscaping
Not sure where to start with a new design? Don't worry, we have a process that is efficient, effective and fun!

Philip's Lawn Care lawn and landscaping services include:


Landscape design and installation

Flower, tree and shrub planting and pruning

Lawn installation including topsoil, sod and seed

Lawn care, mowing and maintenance

With a focus on equipment care, you can be assured of a well manicured lawn provided on a timely and predictable basis.

Unlike many landscaping companies, we respond to all inquiries and look forward to taking care of your landscaping needs.
For More Information Call 860-688-4562